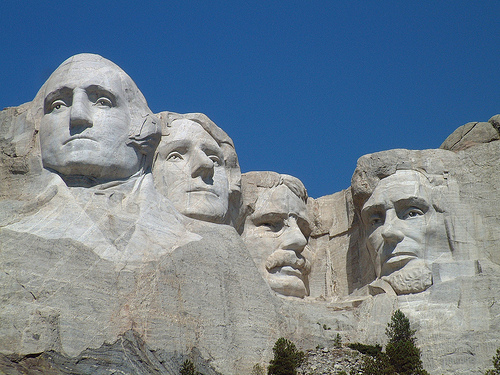 We celebrate President's Day in honor of George Washington, the first US President, who was born on February 22, 1732. Washington was one of Founding Fathers of the US, and he presided over the convention that drafted the Constitution.
Like so many other Presidents that have come after him George Washington was not just in charge of running the country, he also had a lot of wisdom to share.
Today, I'm passing on a few bits of presidential wisdom to inspire you and your business.
Be courteous to all, but intimate with few, and let those few be well tried before you give them your confidence. True friendship is a plant of slow growth, and must undergo and withstand the shocks of adversity before it is entitled to appellation. –George Washington
Honesty is the first chapter in the book of wisdom. –Thomas Jefferson
Don't worry when you are not recognized, but strive to be worthy of recognition. –Abraham Lincoln
Nobody cares how much you know, until they know how much you care. –Theodore Roosevelt
All my life, whenever it comes time to make a decision, I make it and forget about it. –Harry S. Truman
Pull the string, and it will follow wherever you wish. Push it, and it will go nowhere at all. –Dwight D. Eisenhower
We must find time to stop and thank the people who make a difference in our lives.  –John F. Kennedy
There is no limit to the amount of good you can do if you don't care who gets the credit. –Ronald Reagan
We all do better when we work together. Our differences do matter, but our common humanity matters more. –Bill Clinton
One voice can change a room, and if one voice can change a room, then it can change a city, and if it can change a city, it can change a state, and if it change a state, it can change a nation, and if it can change a nation, it can change the world. Your voice can change the world. –Barack Obama
Here's to your true voice & your exceptional story told to the world! Happy President's Day!
–
photo credit: jimbowen0306 via photopin cc
–
If you liked this article, sign up for my newsletter. You'll also receive the rebel manifesto to kick-start your uniqueness. 
To share your ideas with me, comment on my Facebook page, or simply write to me. And if you appreciate my work, please share this post by using the social share buttons above this post.
If you would like to have one-on-one direct access to me and dive into discovering your true voice, consider participating in a rebel session for heart-centered entrepreneurs and business owners who desire purpose and profit.
–