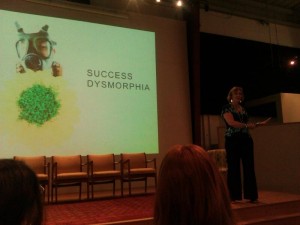 Let's face it: We all need food for our entrepreneurial soul.
That's why I attended the 2013 Renegade Women's Conference in Santa Monica, California, yesterday. Organized by the renegade queens Donna Queza and Nailah Blades, the event brought together corporate renegades turned entrepreneurial powerhouses who are all looking for better ways to do business.
As a special something from me to you, I'm presenting you with some nuggets of business wisdom that inspired me at #RWC13. [Yes, that's a hashtag, and you can look it up on Twitter for more juicy inspiration!]
"People don't fall in love with products, they fall in love with other people." ~@krissdidit
"It's not about living, it's about something to live for." ~@pamslim
"The great mistake is to anticipate the outcome of the engagement; you ought not to be thinking whether it ends in victory or defeat. Let nature take its course, and your tools will strike at the right moment." ~Bruce Lee [one of Pam Slim's Bruce Bombs :)]
"The entrepreneurial life is a go big or go home philosophy…. does that sound balanced?" ~@DDowling_
"Your ROOT is what makes this journey worth it." ~@pamslim
"Writing for your readers is a pre-investment." ~@DDowling_
"Make sure you're telling your true story." ~@pamslim
"The universe responds to your diligence, but also responds to your joy." ~@DDowling_
"Life is about the management of your power." ~@DDowling_
"Are you a force for good? Make sure your BODY of WORK contributes to the good of the world." ~@pamslim
"Always be yourself, express yourself, have faith in yourself, do not go out and look for a successful personality and duplicate it." ~Bruce Lee
Feeling inspired yet? Yep. I thought so. Now, go out and conquer your world, rebel!
__
If you liked this blog post, sign up for my newsletter. You'll also receive the rebel manifesto to kick-start your uniqueness. 
I've chosen not to have comments on my blog. To share your ideas with me, comment on my Facebook page, or simply write to me. And if you appreciate my work, please share this post by using the social share buttons above this post.
If you would like to have one-on-one direct access to me and dive into discovering your true voice, consider participating in a rebel session for heart-centered entrepreneurs and business owners who desire purpose and profit.
__