Let's change the world together
Here is what Communications Rebel is all about
I help changemakers and social innovators tell their story.
Organizations and individuals I've worked with were looking for solutions to questions like
"How can I connect to my audience?"
"How can I tell my story in a way that creates a dialogue and inspires people to take action?"
"How can I build and nurture a community that is rallying around my cause?"
"How can I reach users through social and traditional media and ignite change?"
" How can I create impact in bigger ways?"
I'm Nina Grenningloh Reyes, and I'm here to help you increase your impact and accelerate social change through the power of story. Your story.
In a crowded online world, your story is the most powerful tool in your marketing toolbox – because your audience is craving a good story, an inspiring message, and a damn good reason to take action.
YOU are the reason people do business with you.
YOU are the reason people support you.
YOU are the reason people want to be part of your tribe.
If you work with me, you'll get to dive deep into your purpose and what drives your business or your non-profit. I will motivate you to leave conventional thinking behind and embrace originality instead.
To me a rebel is someone who exhibits great independence in thought and action. I believe Albert Camus who once wrote: "With rebellion, awareness is born."
Nina will take care of all your communications needs with a sharp eye and a compassionate warmth. Look no further for a strategist and communicator that will help you chisel off the unnecessary and cut straight to the core of your authentic purpose. If you are looking for a rebel with a cause – join ranks with Nina. Your brand will be revolutionized and your true message will be polished to perfection.
Marthe Hagen
After working in the communications field for two decades – as a journalist, TV news producer, website manager, PR practitioner, brand manager, marketing and communications director, I've learned that in order for people to truly connect with your story you need to tell it from the heart.
You would think that's a simple thing. Yet, many businesses and individuals don't share their story as it is. Why is that?
Some don't know where to start and tell me, "My story is really not that interesting."
Some are afraid they'll be misunderstood or critically judged. "What if people don't agree with what I have to say?"
Some are overwhelmed by the task and don't know how to break up their story into compelling and digestible chapters for use in digital media. "There's so much to say. Where do I start?"
Whatever your challenge is, I'm here to help you. Every story starts with a strong brand.
A strong brand will give you an interesting and unique angle to tell your story – that only you can tell.
A strong brand will know where it stands. Your job is to speak to your fans and ignore the haters. The biggest mistake any business can make is to try to appeal to everyone. The result: You'll appeal to no one.
A strong brand will help you develop a clear storyline, with chapters that can be told in various media and draw in your crowd.
Nina is super committed, and her goal is to help her client succeed. She does the job by listening, consulting, setting up a workable action plan and giving super practical advice. She helped me create the right communications tools for my specific needs and channels. Her professional focus is on people and storytelling, and I encourage you to work with Nina if you're looking for consultation and action on how to successfully navigate the digital world!
Britta Wein
Out of the companies and entrepreneurs I've worked with in Europe and in North America, those that are most successful are the ones that let their brand voice be shaped by their purpose and their vision.
It takes introspection, sincerity and heart to discover the voice that embodies all that you stand for, all that you are. The one thing that only you can offer to the world.
I've had a life-long fascination for people and companies that own their voice and inspire us with their stories. The truth is it takes a communications rebel to shake up an audience and initiate positive change.
I'm excited to help you tell your story, grow your organization and make a difference. Let's change the world together!
Storytelling in German and English
I've worked with businesses and organizational leaders in North America and Europe. My services are available both in English and German. The German in me will bring organization, structure and efficiency to the storytelling table. The American in me will embrace individuality, vision and a can-do attitude that will help take your business to the next level.
Not sure where to start?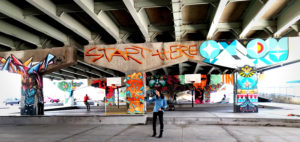 Start here